When it comes to screen time, there's a minefield of advice out there – from parents, teachers, and other experts. For years, we were told that TVs, phones, and tablets were a harmful distraction to kids and something to be avoided. But now, a blanket ban on these devices in the home feels increasingly unrealistic – and simply unnecessary. Luckily, there are plenty of educational apps for kids out there that can transform screen time into something productive and positive – but what are the best educational apps for kids?
Whether it's a maths app for kids to learn their times tables, immersive educational games, or a virtual storybook, there are plenty of teaching apps out there that can be an incredible addition to your child's development. When it comes to the best educational apps for kids, there are hundreds to choose from. How are you meant to know which one is best for your family's needs? This is why we've tried and tested the most popular offerings, and created this shortlist of the best apps for learning. Plus, you'll find our recommendations for the top school apps for parents and teachers.
Continue reading to discover your kids' new favourite app!
Best Maths App for Kids
Our top maths app for kids does exactly what it says on the tin. Math Kids is designed to help children aged 2-6 develop their early numeracy skills, from counting and comparing to adding and subtracting.
As they learn and play, kids can collect stickers and track their progress. The app also has a parent section, where adults can see what their child's been up to. Math Kids is a truly child-friendly app – free to play, no in-app purchases and no pesky ads.
Math Kids is completely free and available to download on iOS and Android.
Pet Bingo is a fun and simple app for developing kids' mental maths skills. This colourful game follows the well-loved bingo premise, but with the added twist that children must complete quick maths questions to complete their board.
You're free to choose what kind of problems your little learners solve, making this app suitable for children aged 4+. Whether they're just getting started with simple addition, or are working towards becoming maths masters, you can set the questions to their level.
Pet Bingo is completely free and available to download on iOS and Android.
Our final recommended maths app for kids is Topmarks' Hit the Button app, based on the popular online game of the same name.
With this fast-action maths game, children aged 5-11 are faced with quick-fire mental maths problems, with questions covering multiplication, division, number bonds and more. The aim of the game is to answer as many questions as possible in sixty seconds.
Teachers and parents can create up to thirty player profiles on the app, meaning children can go head-to-head, or simply try and beat their own high score to win the coveted gold trophy.
Hit the Button costs £2.49 and is available on iOS and Android. 
Best Reading App for Children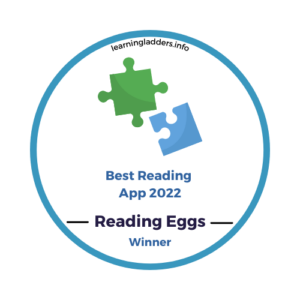 Reading Eggs is one of the most popular reading apps for kids, and for many reasons. Children have access to a digital library of over 2,000 storybooks, as well as interactive reading games, lessons and more, all aimed at ages 2-13.
Backed by educational science, this complete reading system covers the five core components of reading – phonics, phonemic awareness, vocabulary, fluency and comprehension. This means it will perfectly complement your child's activities at school, engaging kids beyond the classroom.
Reading Eggs costs £6.99 a month, and can be downloaded for iOS and Android devices.
Hoot is the educational children's app that pairs learners with their own online teacher. This tutoring service also comes with a library of online books for children to read at their leisure, helping to foster that love of reading.
Having a personal tutor allows your child to have personalised feedback on their reading skills, as well as progress reports for teachers and parents to read. The app's smooth and accessible design is suitable for children ages 4+.
Children's first session on Hoot is free, and then subscription options are available. The app is available on iOS.
Frederick is a language development app that encourages children to learn through exploration and discovery. The games found throughout the Frederick app will help children aged 2+ to perfect their reading, spelling and pronunciation skills.
One of our favourite things about Frederick is that it is perfect for both young children and older children who are learning English as an additional language. The simple, easy-to-use design covers over 2,000 words and phrases.
Frederick is free to download for iOS and Android. For a one-off payment, parents can unlock the full catalogue of content.
Best Writing App for Kids
Creativity, storytelling and imagination – all the things kids love about writing are all contained within the Mad Libs app. Based on the hugely popular website, the Mad Libs app allows children to create their own exciting stories, using educational prompts as they go.
While the aim of the game is to create the funniest story possible, the app also takes time to teach children about parts of language. They'll be prompted to provide a noun, verb or adjective to complete the sentence, but the wacky direction they take the story is completely up to them!
Mad Libs is available to download on Apple and Android devices. A number of stories are available for free, and there is an option to purchase more.
Grammar Smash is the versatile English grammar game that encourages kids to really understand the mechanics of language. Whether they're looking to practise simple verb conjugations, or more technical tenses, this app contains mini-games to help.
With over 100 short lessons, Grammar Smash is great for children learning about grammar, learning English as an additional language, or even those practising for the 11+. Kids can track their progress throughout the lessons and see their improvement over time.
Grammar Smash is available for free on iOS and Android devices, and contains in-app purchases.
For little learners who are just starting out on their writing journey, we recommend iTrace. iTrace allows kids to learn the basics of letter formation from the convenience of the family iPad. 
The app includes a variety of handwriting styles, and can be switched to suit left- or right-handedness. Children will learn to write letters, numbers and common words, as well as their all-important name! 
iTrace is available on iOS devices and costs £3.49 to download.
Best Kids Science Apps
The best way to get kids excited about science is to show them how it translates to the world around them. The Eco-Explorer app does just that, taking learners on digital nature trails as they learn about British ecosystems.
Created by experts, the Eco-Explorer science app for kids is perfectly aligned with the national curriculum, with topics available to suit both KS1 and KS2. Children can learn about minibeasts, flora, and how ecosystems work. Perfect for both lessons and science clubs, the app is child-friendly and incredibly easy to use.
The Eco-Explorer app is available to download on the Apple App Store, with subscriptions available at varying costs for different schools.
Astro Cat's Solar System is the app based on the hugely popular book, Professor Astro Cat's Frontiers of Space. The app lets kids explore our solar system in a fun and interactive way, learning as they go.
Beautifully designed with animations, music and pictures, Astro Cat's Solar System will teach children aged 4-11 all about outer space, with facts about the sun, planets and moons included in gameplay. 
Astro Cat's Solar System is available to download on Apple and Android devices for £3.49.
And for an alternative way to bring science to life, we have Monster Physics. Make the most of kids' natural creativity and curiosity by encouraging them to build cars, cranes, helicopters and more using the app.
Once your little learners have finished creating their machine, the game will bring their masterpieces to life and allow kids to operate their own creations. This will encourage them to use all their investigative skills – what changes will make their machine faster, or more powerful?
Monster Physics can be downloaded on Apple devices for £1.79.
Best Coding Apps for Children
Hopster is a coding app for kids that really brings this topic to life. Children can work through a variety of games, which introduce them to basic coding principles, such as algorithms.
The reason Hopster stood out to us over the overcrowded market was its target audience. Hopster starts children on their coding journey before they even start school, making the app perfect for children aged 2-7. Kids encounter adorable animal characters as they learn the basics of coding in a way that is both exciting and digestible.
Hopster Coding is free to download on iOS and Android. Additional levels can be purchased for £1.99 each.
Another great coding app for kids, that parents and teachers should be aware of, comes from the makers of the popular classroom floor robot, BeeBot. Now, children can bring the excitement of BeeBot home with them, using the innovative and colourful app.
The BeeBot app is a great addition to your children's learning, whether they use the physical robot in the classroom or not. Users solve puzzles by guiding the cartoon bee through each level, using coded sequences. We recommend the BeeBot app for children aged 7-11.
Beebot is free to download on iOS and Android devices.
codeSpark Academy is the hugely popular coding app loved by kids, parents and teachers. It brings coding topics to life through colourful games and challenges – children often don't even realise they're learning! 
codeSpark Academy teaches the basics of computer science through tutorials and puzzles, encouraging children aged 5-10 to use logic and problem-solving skills to complete each game. Children will learn about sequencing and other coding topics, in line with a curriculum that is fully accessible to parents via the app.
codeSpark Academy has a 7-day free trial, followed by a subscription from $9.99 a month. It is available to download on iOS and Android devices.
Best Apps for Teachers
The Mentimeter app allows educators to transform their teaching style, by creating compelling, engaging and interactive presentations on any topic. Simply add in polls, quizzes, GIFs and more to make slideshows that your class will actually want to pay attention to.
Mentimeter is also a great way to introduce older students to the art of presenting. Next time they're tasked with presenting new information to their peers, why not ask them to use Mentimeter? It will help them to create an exciting and engaging presentation that is much closer to those used in the working world.
Mentimeter is free to use, with premium subscription options starting from £6.99 a month. 
Kahoot is a long-running classroom favourite, that allows teachers to create and play quizzes on any topic. Simply create your own game, or use one of the thousands pre-made by other educators on the Kahoot app.
These quizzes make a great lesson opener or plenary, giving you the opportunity to test your class's initial knowledge or their understanding after a lesson. They're also an excellent revision tool, which you can encourage children to play individually or as a class.
Kahoot is free to use and available to download on Apple and Android devices, or to use via the web.
ShowMe is the app that allows teachers to create virtual presentations using their iPad as an interactive whiteboard. Teachers can create their own ShowMe, or choose from one of the many existing presentations from a community of trusted educators.
ShowMe is a godsend for remote learning, allowing teachers to create interactive whiteboard displays and explanations that are even more compelling than those in the classroom. It means kids aren't missing out on high-quality learning.
ShowMe is available to download on Apple devices, with a subscription costing $5.99 per month.
Best Apps for Preschool Children
OK Play is an app loved by parents and children alike. It encourages creativity and develops social and emotional skills as children tell stories through the app.
What we love about the app is that parents and children can play it together, and it forms a powerful learning experience for both parties. Stories in the app can teach children about how to treat others, while also building their confidence. Parents can also benefit from the wealth of parenting advice contained within the app.
OK Play is available to download on Apple and Android devices for free. To unlock unlimited content, a premium subscription can be purchased.
There's a reason that Peppa Pig is as popular as she is. And the exciting World of Peppa Pig app follows the same principles, bringing every toddler's favourite cartoon to their phone or tablet screens.
The app is packed with educational games, which will help children aged 2-5 develop basic skills in reading, writing and arithmetic. As well as this, players can learn about important, 'softer' topics such as relationships, emotions and creativity. All in all, an exciting and well-rounded learning experience!
These apps are great for preschool teachers too.
World of Peppa Pig is available to download on Android and Apple devices, with subscription costing £4.99 a month.
Lingokids is an app that allows kids to learn as they play. Its 700+ games have been approved by teachers, parents, and – of course – children. Including a range of audiobooks, songs and interactive games, children can learn about topics including numbers, colours and shapes.
Aimed at children aged 2-8, Lingokids is a great foundation for pre-schoolers. We particularly love the "Play Together" games, which encourages parents to get involved with their toddler's learning.
Lingokids is available for free on Apple and Android devices. Unlimited premium content can be purchased for $14.99 a month.
Best Apps for Secondary School Children
There's something blissfully simple about a mind map. And that simplicity is what makes the SimpleMind app so effective. The app does exactly what you'd expect it to – it's an app purely for making mind maps – about any topic or subject, big or small.
As well as the basics, there are some extra features that make SimpleMind so great. As well as mind maps, students can make flowcharts and other chart styles. There is also a dark mode for late-night studiers, and the option to share your creations with friends and classmates.
SimpleMind is available to download for free on iOS and Android devices.
As kids reach secondary school, lessons and homework begin to become a little trickier to keep on top of. That's where Class Timetable comes in. Kids can take ownership of their weekly routine by inputting their classes, assignments, and clubs, and the app will keep them all in one place, providing reminders when needed.
While we recommend Class Timetable for secondary-aged students, we also think it's great for parents of younger children, or even teachers. It's a great way of keeping track of classes and homework each week, and will help kids and parents to come up with an effective routine.
Class Timetable is free to download on iOS and Android devices.
For teens, there's always a battle between studying and the lure of their phone. The Offtime app aims to reduce distractions while studying by limiting screen time and blocking incoming notifications.
On the app, users can also see their screen time broken down – what times of day do they most commonly use their phone? And what apps take up all their attention? Even aside from studying, we think that unplugging and taking time away from screens is a great idea.
Offtime is available to download for free on Apple and Android devices.
Now time for our school apps for parents and teachers!
Best Educational Apps for Parents on a Budget
A little bit different from some of the other apps on this list, LogicLike provides kids with an opportunity to develop their problem-solving skills and creativity with these fun and free logic challenges.
Games are divided by age group – from preschool upwards – meaning you can pick out challenges that perfectly fit with your child's abilities. You can also browse by category, allowing parents to target specific skills, including maths, chess and geography.
LogicLike is available to use free of charge online or to download as an app on Android and Apple devices.
YouTube hardly needs an introduction – it's a household name loved by parents, children and everyone in between. But it's the child-friendly version that makes this the perfect free app for kids. Parents can download the YouTube Kids app and simply sit back, safe in the knowledge that their children are safe from harmful or inappropriate content.
The app features the same incredible variety of videos that users know and love – from wake-and-shake exercise videos to maths explainers. The kid-friendly format means you can leave your children to it, safe in the knowledge that they won't click on anything you wouldn't want them to see.
YouTube Kids is free to download for Apple and Android devices, and also available to access via the web.
For kids looking for free homework help, Brainly is the answer. Children can ask questions to the community of thousands of experts and get speedy, fact-checked answers relating to any subject.
What we love about Brainly is the additional option for a parents' account, which is also free. This allows parents to see what their child is studying, what they're asking for help with, and what advice is offered – this will help them to provide great homework support in the future. 
Brainly is free to download and use for Apple and Android devices. A Brainly Plus subscription is available to purchase, which allows children to access unlimited help.
Best EAL Apps
Memrise is the language-learning app that encourages children to speak like locals, making it perfect for EAL students and those learning a language at school. Children can watch video clips of real locals speaking, allowing them to get used to a variety of accents and colloquialisms.
The app covers 23 languages, and allows children to play games to test their knowledge. The style of teaching is backed by science, meaning children are learning their new language in the best possible way.
Memrise is available to download for free on Apple and Android devices, with a Pro subscription available at a cost.
Duolingo is a favourite app among language learners across the globe, and of all ages. And the popular language-learning app among adults is also a great way for children to learn English as an additional language, with many starter languages available to the user.
We recommend Duolingo to secondary-aged children – both those learning English as an additional language, and those learning a modern foreign language at school. Children can work through quick lessons before being tested on their knowledge of key words and phrases.
Duolingo is available to download for free on Apple and Android devices. A premium subscription is also available to purchase.
If you're looking for an app to help even the littlest of learners get to grips with a new language, then LinguPinguin is the answer. Featuring four different languages, LinguPinguin is perfect for EYFS learners who are just beginning to learn about other cultures and languages. 
Children can make their way through interactive worlds, learning about topics that interest them – from animals to colours. This is an app made with children in mind, with colourful images, interactive scenes and a friendly penguin host, to keep the learning fun at all times.
LinguPinguin is available to download on Apple and Android devices. For £1.99, parents can upgrade, so that their children can explore all worlds on the app.
Best Revision Apps
Quizlet has been the revision app of choice for students for many years now, and for good reason. On the app, teachers (or students themselves) can create banks of quizzes, flashcards and notes – either for personal, class or public use. Children can then revise these topics using Quizlet's wide range of game modes.
Quizlet's versatility means it can be used individually at home or collectively in the classroom. Why not end lessons with a quick-fire quiz to test your class's understanding? In a rush? Simply use one of the quizzes pre-prepared by one of the app's 60 million members.
Quizlet is free to download and is available on iOS, Android, and as a web app.
BBC Bitesize has been a staple for kids' revision for years, and now it has a corresponding mobile app – meaning students can take their revision on the go with them. Currently, the BBC Bitesize revision app only includes content for GCSE learners, so is recommended for ages 14-16.
On the app, users can browse by exam board and revise accurate information that is relevant to their curriculum. As well as online lessons, there are quizzes along the way to test their understanding.
BBC Bitesize is free to download on iOS or Android devices. Alternatively, you can access more BBC Bitesize content via their website.
The 11+: Your 11+ Helper app is every parent's one-stop-shop for everything they need to know about 11+ exams. Completely free to download, it talks parents through grammar school options for their child, and whether the 11+ option is for them.
As well as this, the 11+ revision app will tell you about the exam itself, as well as help you find tutors and support in your area. There's even a forum section, where you can chat to other parents about how best to support your children.
The 11+: Know Your 11+ Helper app is free to download on iOS devices.